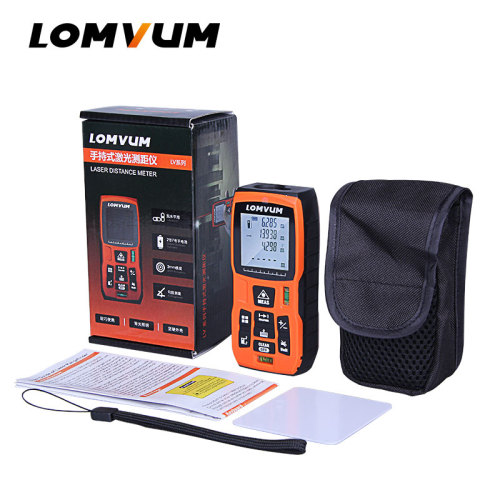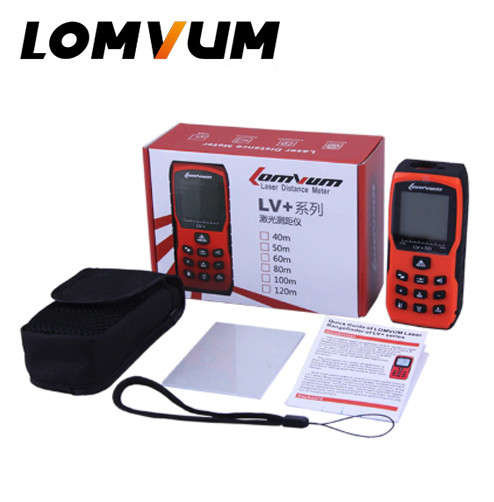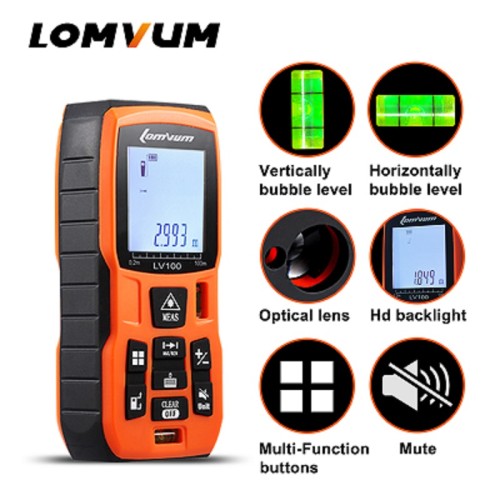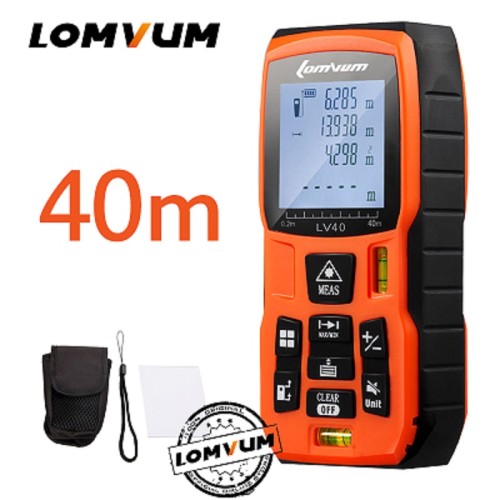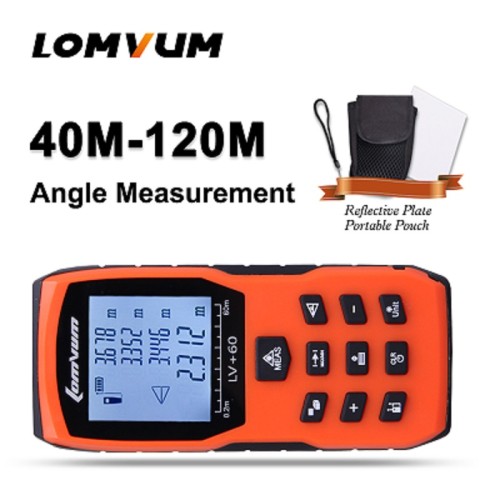 LOMVUM 40M Laser Ruler Digital Distance Meter Measurer Range Finder Laser Metreler
Model

LV-A/LV-B Laser Metreler
Item specifics
Brand Name:

LOMVUM
Model Number:

LV-A/LV-B
Size:

4.5*1.9*1.1 inch
Measurement Accuracy:

3mm
Measurement range:

40m
Power Type:

Battery-Powered
Bubble level:

Electronic Bubble Level
Unit:

m/in/ft
Laser Class:

630-670mm, Class 2
Power:

AAA 1.5V*2pcs (batteries not included)
Data Storage:

66
Weight:

76g
Measurement times per batteries:

More than 5000 times
Color:

Orange and Black
Description
Digital Distance Laser Meter
LOMVUM Laser Rangefinders Digital Laser Distance Meter
40M battery-powered Automatic calculation distance measurer
we provide English/Russian/Portuguese/German/French/Spanish/Italian/Japanese manual for LVB model to let all customer operate easily.
Utilizing precision laser technology, the LOMVUM laser distance meter kit provides fast, easy, and accurate measurements every time you use it. Pocket-sized for easy portability, this handy tool offers length, area, and volume measurements in inches, feet, and metric units.
The Compact Laser Measuring Tool measures and displays length; calculates and displays area; and displays continually updated measurements as you move it toward or away from the target.
Ideal for interior decorating, remodeling, floor and wall coverings, real estate estimation and appraisal, it is the quick, easy and accurate way to measure, even at walking-out distances.
LOMVUM LV-A/B laser distance meter has following features:
1. Electronic bubble level, which can easily know the angle and when the laser is vertical/horizontal in the object.
3. High accuracy as 1.5mm and wide measuring range up from 40m to 120m.
4. Set up front / rear benchmark.
5. Large LCD with backlight.
Power

AAA 1.5V×2pcs (battery not included)

Accuracy

2mm

Product Color

Orange and Black

Measuring Distance (m)

40m

Product Net Weight

76g

Unit

m/in/ft

Product Size

4.5*1.9*1.1 inch

Laser Class

630-670 nm, II class

Standard Individual Packaging

Laser meter, bag, laser receiver, lanyard

Continuous Measurement

Data Storage

66

Area/Volume Calculation

Measurement times per batteries

more than 5000 times

Pythagoras Theorem Calculation

Operate Temperature

0C ~ 40C

Add/Subtract

Bubble Level

Electronic bubble level

Length Add/Subtract

Auto Laser Off

Area Add/Subtract

Auto Power Off

Volume Add/Subtract

MAX/MIN
Model A Is More Convenient And Fully Functional
Our products have been successfully applied to millions of projects with
recognition and appreciation of architectural designers, installers and users.
01. Electronic Bubble Level
improved the measurement stability and repetitiveness of the laser
03. Anti-interference Laser
increase the measurement accuracy; decrease the errors
04. Anti-throw Wear-resistingswiss overmolding mold features exceptional damage risistance to the scratches, drops and bumps of use
05. 66 Measuring Results Record
06. LCD Backlit Screens
​